I could not be much more excited, y'all -- it's almost time for the next
Bead Soup Blog Party
, hosted by the inimitable, fabulous, and all-around amazing Lori Anderson of
Pretty Things
I stumbled across the last bead soup blog hop by happy accident, and it blew me away. The creativity, the generosity of the participants with each other, and the flat out overwhelming quantities of eye candy were astonishing. I couldn't wait for the next one so I could join in.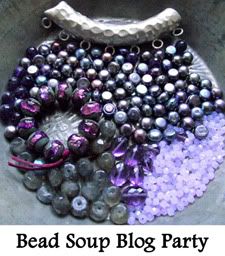 In case you're not familiar with the ins & outs of the bead soup party, participants are paired up with a swap buddy, and each sends a focal, coordinating beads, and a special clasp to the other.
Can you imagine the excitement of packing up a box of goodies, knowing that you'll be getting a spectacular selection of surprises in return?
Everyone makes something from their surprise package ingredients - adding whatever special seasonings they need from their own "bead room kitchen." Pictures of the final products are posted, and then the fun begins, when we all spend hours strolling through the blogs and being wowed by the results.
So mark your calendars, folks!! Sign ups are August 1 - 3, beads go out August 17, and the (drum roll, please) Big Reveal is September 17.
Will you be cooking up some bead soup this time? I'll see you there!